Observing the Sun:
If you have never viewed the Sun before PLEASE ask one of our members to show you how to do this safely and read the page on Solar Safety before attempting any kind of viewing of the Sun!
Sunspot Numbers

When observing the Sun consider taking a count of active areas and calculating the relative sunspot number (R) and reporting these to the BAA Solar Section
The Sun has an obliquity to the ecliptic of 7.25° if you record your solar observations as drawings then you should use the appropriate Stonyhurst disc as a template, this will allow you to identify the latitude of the sunspot at any time of year.
Active Areas or Sunspot groups (g)
This is a count of all the active areas on the disk, if there is a sunspot, however small, this is an active area (group) if sunspots are separated by at least 10° then they are separate active areas, a large spread out area is still considered a single AA unless there are clear centres of activity within the larger area, then they are counted separately.

Relative Sunspot Number (R)

To find the Relative Sunspot Number count all the individual sun spots call this number, f, then the relative sun spot number, R = (10 x g) + f
Example: 3 active areas, 35 spots, R=(10×3) +35 = 65 (no other spots on disk)
Reporting
Regardless how infrequent your observing the BAA Solar Section are happy to receive your observations, these can be in the form of images, drawings and monthly reports.
Useful Filters
The Sun can be observed through different filters and these have advantage and disadvantages, please speak to other Members of the Society or the BAA Solar Section for detailed information.
Baader Solar Safety Film – White light filter, very cheap but effective full apature filter, turns any telescope into a solar telescope.
Herschel Wedge – White light Filter, very expensive but Members tend to get better results with these than with solar safety film.
Solar Continuum Filter – Only for use with a Herschel wedge or Solar Safety film, increases the contrast of surface features.
Hydrogen Alpha Solar Scopes – Many makes of these available, they are very expensive (~£600 for the cheapest) but will enable you to see solar flares and other features not visible with white light.
CaK Solar Scopes – Many makes of these available, they are very expensive (~£600 for the cheapest) but will enable you to image solar flares and other features not visible with white light, not suitable for visual observations.
NEVER LOOK AT THE SUN DIRECTLY. Please see our Solar Observing safety page at crayfordmanorastro.com/solar-safety/
On the morning of Sunday 15th January 2023, CMHASD member Honor Wheeler captured this absolutely stunning image of the Sun. As you can see it was very active and still is! Details of how Honor acquired her brilliant image are on the photo.
The information below is taken from the website Spaceweather.com
Picture above shows the Sun on 15th January 2023 – taken by the Solar Dynamics Observatory with the Sun spots labelled.
"'…I can't remember having seen so many sunspots together; indeed, the sunspot number is high. If solar activity continues at this pace for the rest of January, the monthly sunspot number will reach a 20-year high. And Solar Maximum is still ~2 years away. Contrary to predictions, Cycle 25 is shaping up to be a good one, after all."
17th Jan 2023
"NAKED-EYE SUNSPOT: One of the biggest sunspots in years (AR3190) is crossing the solar disk–and you can see it with the naked eye. "Be sure to use safe solar glasses to protect your eyes," says Bum-Suk Yeom of Iksan, South Korea. "I tried it myself today, and I could see the sunspot clearly."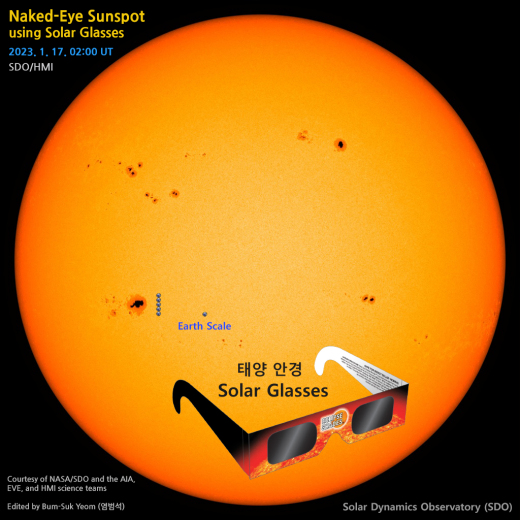 As shown in Yeom's infographic, the sunspot is four times wider than Earth. It's twice as big as any other spot on the sun, visible to the naked eye, and a magnificent target for backyard solar telescopes.
Best of all, it's about to explode. AR3190 has an unstable 'beta-gamma-delta' magnetic field that harbors energy for X-class solar flares. Any eruptuions will be geoeffective because the sunspot is almost directly facing Earth." "
All images are copyright. Permission must be sought to from the image owner to the use of any of these images.